Proofreading
Why is it important that texts contain no errors?
In modern business, written communication is of great importance and, as such, a company's image depends largely on the accuracy and clarity of its texts. To the client, a well-written text gives an impression of professionalism and quality, of a company that values a job well done. A text that contains grammatical, spelling or stylistic errors projects an image of a company that lacks professional rigour and attention to detail. Your written communication is your image.
Thanks to our team's wide experience of proofreading, underlined by the trust that our clients have placed in us, Contextual ensures the appropriate expression, coherence and quality of your texts.
What services does Contextual offer?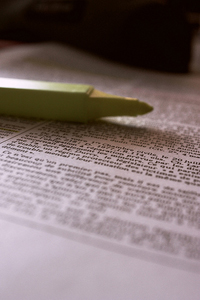 As Contextual works very directly with its clients, focusing on their particular needs, our team can offer you a tailored service that meets your priorities exactly. Contextual offers its range of proofreading and editing services for the following types of texts, among others:
Marketing and advertising material
Scientific texts
Administrative documentation
Web pages
Drafts for publication
Personal documents
Academic texts and dissertations
We provide proofreading in English, Spanish, French, Catalan, Italian, Portuguese, German, Basque and Galician.